Magnum Marine 50' BESTIA by Paolo Martin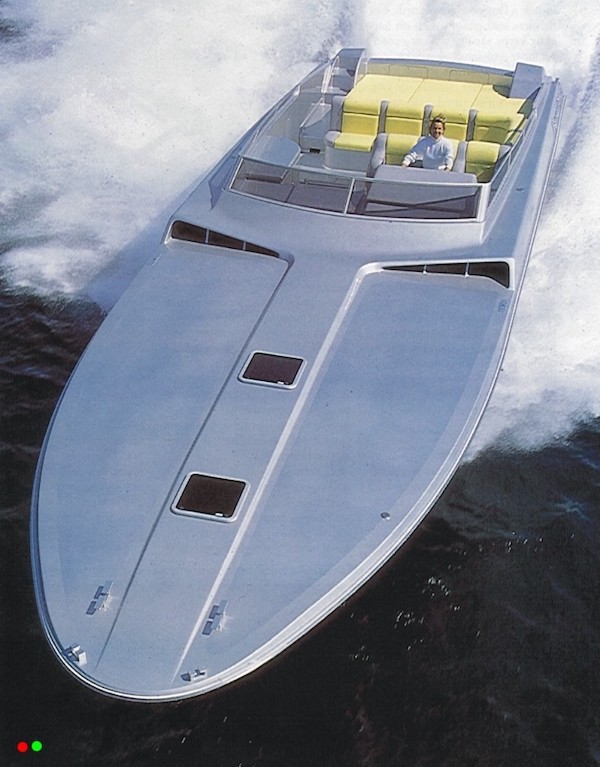 The opportunity for collaboration with an overseas boating company was presented in 1993 and precisely with Magnum Marine based in Miami North.
The request of the owner Katrine Theodoli was very concise, she wanted a boat that essentially expressed the strength and efficiency of an extremely tested and safe hull with an Italian image.
The 15.2 m long, 4.20 m wide living work was equipped with two 1550 HP Caterpillar engines and Arneson final drives for a maximum speed of 72 knots and 50 cruising.
The main feature was the impressive and brutal acceleration and maneuverability in all sea conditions and from this came the name "Bestia", the first specimen was put in place at the beginning of 1994.
It can be seen, from the first initial pencil sketch executed on letter paper of the Hotel "Holiday Inn" that the subsequent evolution remained faithful to this image instinctively performed the evening of my arrival.
The very spartan interior with the essentials had 3 cabins, 3 bunks and two bathrooms, later a version with a rigid Hard Top was prepared.
It was a good experience, the working methods are very different from the European ones, I would say more "practical" to get immediate results with tested and efficient components.
Paolo Martin