Bugatti EB 110/PM1- 1989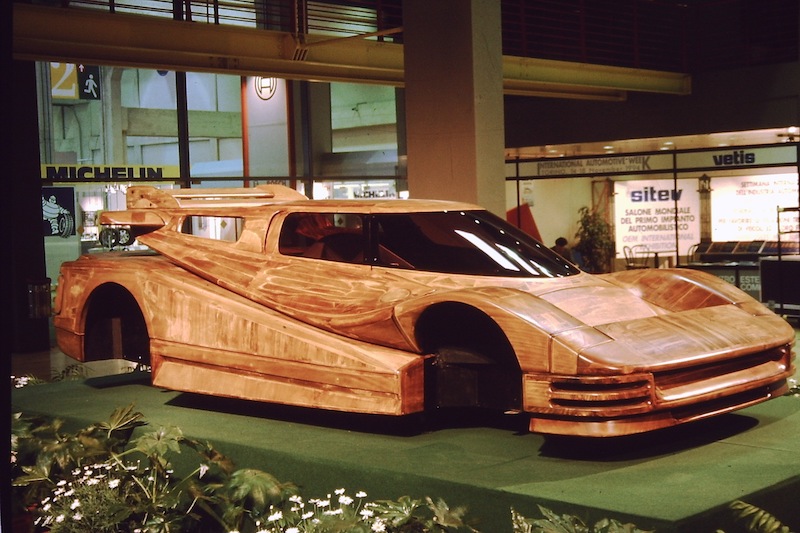 "A model of sports car in 1: 1 scale and made entirely of wood. A structure whose shape exceeds the stylistic value and expresses, in its materiality, a philosophy, a way or method of expression and construction that was typical of the attitude communicative and behavioral of the man towards the car up until a few decades ago.It is called PM1 and represents the symbol that accompanies the 65th edition of the Turin International Motor Show, a return of image necessary for Turin that has always been represented the place where automotive manufacturers were measured for genius and creativity, and where the great designers were born professionally.Produced entirely by the expert hands of Paolo Martin, the PM1 is not a pure exercise in style but a proposal suitable for current taste, a realization that takes into account all the ergonomic requirements, the regulations of various countries, the feasibility and economy of c Obstruction: Martin also planned the interior layout, full of original proposals. The single-seater cabin consists of a capsule in which the steering wheel is replaced by two handwheels located on the arm rests, for a more ergonomic ride. For safety, the driver has a four-point anchor belt that incorporates an abdominal airbag. Observed in its technical aspects or appreciated simply as a "mobile" car, the PM1 is in any case a reality resolved in a traditional way and presented so simply, to reawaken that intimate sense of taste and charm that always accompanies a valid work for a long time. "-
In March 1989, dr. Came to visit me. Romano Artioli accompanied by Eng. Paolo Stanzani, who gave me the task of designing a car with certain characteristics on a Bugatti 3000 chassis. What you see is really a little dated, but the project is 18 years old and therefore some appendages, especially aerodynamic, today would no longer be fashionable. The philosophy of the project was essentially to create two distinct areas, that of traction and strength tied to earth and that of the living cell with aerial shape and ideally detached from the body. For a series of vicissitudes, while liking, the project did not start and I kept the 1: 4 scale model. Subsequently, in 1991, a Japanese entrepreneur, Joshiro Kitami, took an interest in the project and wanted to revive the Ford Cobra brand in which he had investments. I then executed the polystyrene model to start engineering, but unfortunately this operation also failed due to financial problems. Of course, taken by a strong nuisance, I started to build the 1: 1 wooden model and used the same to make a completely personal study on passive safety. I invented the residential cell with a tetragonal composite structure, "suspended" inside with the pedals subdued to the surface, a four-point belt with an abdominal Air-Bag, an Air Bag under the knees and a driving command composed of two trunks of cone positioned against gear with steering functions and a function selector on the right side. Everything turned out to be very comfortable and very sensitive.
2015-01-22 15.08.37 copia
https://www.ebay.it/itm/ALEZAN-BUGATTI-110-PM1-PAOLO-MARTIN-BLUE-1-43-EXCELLENT-38-/202290123148