Ferrari Sigma GP - 1968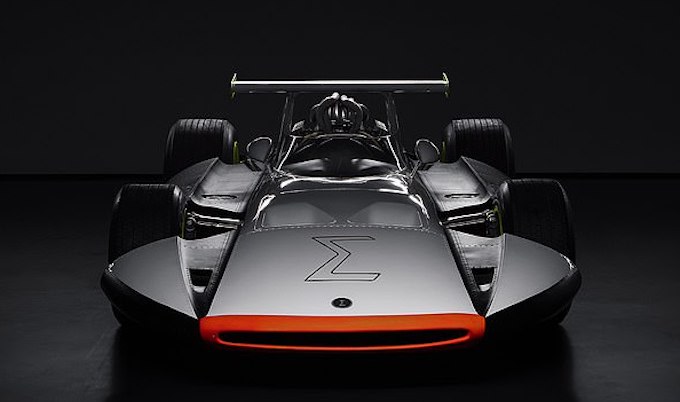 The study of SIGMA G.P. commissioned on the proposal of AUTOMOBILEVUE AUTOMOBILE-SUISSE, it was a real test for me, a real problem in which pride was at stake in all its aspects; one day an F1 frame in tubes disassembled with an engine, a pedal board and four wheels arrives at the company, all of which must have belonged to a model F1- central rear engine-12 cylinders at 60 ° -2990 cc.-400 HP at 9200 rpm- 5 speed + rm.The mechanical assembly lay motionless for a few days in the workshop until my curiosity made its way and I got some clarifications from the management about it.
Franco Martinengo, the then director of the C.S. he said to me "Try to come up with something to keep yourself from hurting yourself!" This was the imput.So in thought, and think again, and among the juvenile fantasies of the underwriting, that he had never seen an F1 closely, yes it gave way to the idea of ​​constructing a deformable under-frame or load-bearing boat with a rigid cell applied over it but this seemed too complicated to realize due to weight problems and connections so I immediately went to the execution of a polystyrene frame simulacrum just to see what impression came from it
I put four wooden shims of 10 cm. under the engine and the pedals, I decided the wheelbase at 2400 mm. I sat in the middle with the steering wheel in my hand and a wood under the rear starting to dream of being on the track mimicking the noise of the engine.
Little by little he began to sketch a sketch of a frame, very spartan, made tenderness and I, when I asked about the continuation to the various managers, I realized that they knew less of me, a good help I had instead always from the director Martinengo in these terms, dear Martin "cà fasa l'on c'à vol" (do what he wants!) was already something. So the SIGMA GP was born, length. 4200 mm. Width. 1940mm. alt. 930 mm. , carr ant. and post. 1550/1580 mm. weight 590 Kg. after long and intuitive studies on safety. With regard only to myself and later Mr. Theo Page, a specialist in details, he is aware of how this car is assembled internally, everything is sealed by rivets and the assumptions are then unleash just with imagination.
True that the belt for the helmet put it to the last in a moment of enthusiasm, also true that the dashboard had to open in case of impact given its structure but the most important thing was the fact that, when we saw that the car held on its wheels without the aid of the supports it was a great sigh of relief on my part.
Comment Direction - It's a wonderful job, congratulations, a step forward of decades has been made!
Paolo Martin actually found himself solving one of the most difficult problems of his business, the car was exhibited in a world novelty in Geneva on Thursday 13 March 1969., drawings, chassis, models, sketches, photos, irritations and obstinacy, have led to this result originated by a 24-year-old boy who received 300,000 lire at the end of the month but also a great experience, I think unrepeatable.