Studio-Piaggio / Spazio3 -1984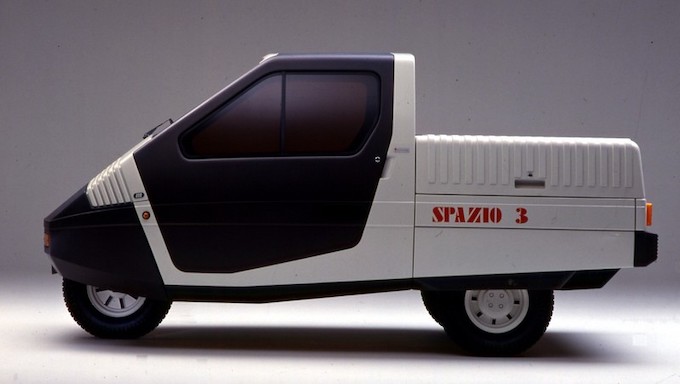 The vehicle was born as a proposal for urban mobility, not an alternative but complementary to the car, that is able to facilitate some daily services thanks to its practicality and low operating cost.
The platform was three-wheeled - conceptually like a Piaggio Ape - with 50 cc (two-stroke) engines up to 250 cc (four-stroke), and therefore with the possibility of driving without a license, or in any case with limited running costs .
Compared to a classic "motorcycle", however, the Spazio 3 had an aerodynamic body with a more sophisticated design (partly "automotive"), able to guarantee greater versatility.
For example, the doors hinged at the front and tilting could be completely removed, while the rear compartment could be covered with lockers longitudinally hinged, with a glazed rigid roof or with tarpaulin, but could also remain open, with visible pipes, as in a pick-up .
The external dimensions were very compact - note the comparison with the small Fiat 126 - and the interior had a two-seater passenger compartment and a simple but practical dashboard, with a very nice design and not lacking in elegance in its "essentiality".
Some prototypes were made by the Maggiora company which, in addition to being well made, also obtained a certain approval from the Piaggio management; the project, however, did not follow, perhaps also due to the change in company management that occurred shortly afterwards.
A real shame: surely Space 3, with the necessary evolutions, could have had a brilliant "career" in these decades, up to the present day.